Differences between revisions 1 and 11 (spanning 10 versions)
⇤

←

Revision 1 as of 2015-01-03 13:57:03

→

Deletions are marked like this.

Additions are marked like this.

Line 2:
Line 2:

We would like to give to the 'Battle of the Mesh' the flavor of a tournament with a social character. If you are a mesh networking enthusiast, community networking activist, or have an interest in mesh networks you might find this bunch of crazy folks gathering for the Wireless Battle of the Mesh V

7

very interesting. This event is also an opportunity to meet developers from the most popular open source mesh protocol implementations ([[http://www.pps.jussieu.fr/~jch/software/babel/|Babel]], [[http://www.open-mesh.org|B.A.T.M.A.N.]] L3 and L2, [[http://www.bmx6.net|BMX]], [[http://open80211s.org/|IEEE 802.11s]], [[http://olsr.org|OLSR]]) and watch their ideas compete. If you have implemented an interesting mesh protocol capable of running on !OpenWrt

Attitude Adjustment

you can take part in the tournament too.
We would like to give to the 'Battle of the Mesh' the flavor of a tournament with a social character. If you are a mesh networking enthusiast, community networking activist, or have an interest in mesh networks you might find this bunch of crazy folks gathering for the Wireless Battle of the Mesh V

8

very interesting. This event is also an opportunity to meet developers from the most popular open source mesh protocol implementations ([[http://www.pps.jussieu.fr/~jch/software/babel/|Babel]], [[http://www.open-mesh.org|B.A.T.M.A.N.]] L3 and L2, [[http://www.bmx6.net|BMX]], [[http://open80211s.org/|IEEE 802.11s]], [[http://olsr.org|OLSR]]) and watch their ideas compete. If you have implemented an interesting mesh protocol capable of running on !OpenWrt

Chaos Calmer (14.07)

you can take part in the tournament too.
Line 8:
Line 7:
The BattleMeshV7 will be held at '''Maribor, Slovenia'''. The testing / hacking / talks will take place in <<TODO>> It features one large room with a separate stage corner for talks as well as a smaller room for discussions, a smoking room and several other smaller rooms. Expect to find nice WiFi internet connection (Freifunk and Sublab Wifi), hacking gear, video projector, a beer garden outside, and some curious hackers.

TODO: describe venue

Some first impressions:

TODO: upload pictures

The BattleMeshV8 will be held at '''[[https://goo.gl/maps/8yko4|Maribor, Slovenia]]'''. The testing / hacking / talks will take place in '''[[https://goo.gl/maps/5wWMk|Dom Obrambe Pekre]]''' It features one large dining hall with an attached smaller hall for talks, a large lecture theater, several smaller classrooms and an outdoor auditorium. Expect to find nice community WiFi internet connection (open.wlan-si.net), video projectors, beverage and snack supplies and some curious hackers.

'''Dom Obrambe Pekre''' consists of two larger halls, several classrooms and offices. It is an ex-military school now ran by the Administration of the Republic of Slovenia for Civil Protection and Disaster Relief and used as a Civil protection base, firefighter education base and is the headquarters of Slovenian Ham-Radio Association. Placed on the outskirts of town Maribor under the Pohorje mountain it is surrounded by a large open area and vineyards, offering a very nice environment for setting-up indoor and outdoor WiFi test setups. During the summer time the outdoor auditorium is a very nice setting for some hacking int he sun, a football match in the afternoon and a barbeque in the evening. The location has a nearby city bus stop in about 15 min walk away from the ski-resort with plenty accommodation options.

=== Some first impressions - please imagine that with 30 degrees Celsius in summer time :) ===
Outside the venue and view:

[[attachment:20150103_100522.jpg|{{attachment:20150103_100522_thumb.jpg|attachment:20150103_100522.jpg}}]] [[attachment:20150103_111643_LLS.jpg|{{attachment:20150103_111643_LLS_thumb.jpg|attachment:20150103_111643_LLS.jpg}}]] [[attachment:20150103_111807_LLS.jpg|{{attachment:20150103_111807_LLS_thumb.jpg|attachment:20150103_111807_LLS.jpg}}]] [[attachment:20150103_114012.jpg|{{attachment:20150103_114012_thumb.jpg|attachment:20150103_114012.jpg}}]]

Inside the venue for hacking/talks:

[[attachment:20150103_110706_LLS.jpg|{{attachment:20150103_110706_LLS_thumb.jpg|attachment:20150103_110706_LLS.jpg}}]] [[attachment:20150103_110805_LLS.jpg|{{attachment:20150103_110805_LLS_thumb.jpg|attachment:20150103_110805_LLS.jpg}}]]

Radio tower on the montain:

[[attachment:20150103_122005.jpg|{{attachment:20150103_122005_thumb.jpg|attachment:20150103_122005.jpg}}]] [[attachment:20150103_122052.jpg|{{attachment:20150103_122052_thumb.jpg|attachment:20150103_122052.jpg}}]]

[[http://www.kreatorlab.si/|Kreatorlab Fablab/Hackerspace]]:

[[attachment:20150102_165126_LLS.jpg|{{attachment:20150102_165126_LLS_thumb.jpg|attachment:20150102_165126_LLS.jpg}}]] [[attachment:20150102_165805_LLS.jpg|{{attachment:20150102_165805_LLS_thumb.jpg|attachment:20150102_165805_LLS.jpg}}]]

[[http://tgas2014.wordpress.com/gt22/|GT22 Transnational Guerilla art school]]:

[[attachment:20150102_161954.jpg|{{attachment:20150102_161954_thumb.jpg|attachment:20150102_161954.jpg}}]] [[attachment:20150102_162229.jpg|{{attachment:20150102_162229_thumb.jpg|attachment:20150102_162229.jpg}}]] [[attachment:20150102_162304_LLS.jpg|{{attachment:20150102_162304_LLS_thumb.jpg|attachment:20150102_162304_LLS.jpg}}]]
Line 18:
Line 33:
Plenty accommodation options are available in the ski-resort part of the town Maribor under [[http://maribor-pohorje.si/pohorje-mountain.aspx|Pohorje]] mountain. A pleasant area in all seasons offers accommodation, restaurants and plenty outdoor recreation facilities.

Currently we are discussing options for cost-effective accommodation and more will be known once the date is set. Most likely 2-4 bed rooms in a hotel will be organized, however camping sites are also available nearby.

==== Hostel ====
Line 21:
Line 40:
==== Hostel ====

TODO

Line 26:
Line 41:

[[attachment:gettingtomaribor.png|{{attachment:gettingtomaribor.png|attachment:gettingtomaribor.png|width=600px}}]]

Line 30:
Line 46:

TODO
There are plenty options to travel to Maribor by plane as there are several major Airports within 1-2h driving distance.

Soon we will appoint a community member to help you with travel arrangements.

===== Maribor - Edvard Rusjan airport =====
Closest international airport in Maribor located a few kilometers outside the city, but there are no regular connections, only charters and flying sports activities.

===== Ljubljana - Jože Pučnik Airport =====
The [[http://www.lju-airport.si%20main%20Slovenian%20airport|http://www.lju-airport.si%20main%20Slovenian%20airport]] with multiple international daily routes and frequented by low-cost airlines EasyJet (London) and Wizzair (London, Brussles). Note that there are very frequent flights to/from Istanbul, Turkey, you may find a good deal if arriving from other parts of the world via that airport.

The airport is about 100km from Maribor, that takes about 1h by car. You can travel to Maribor by shuttle bus, by Shuttle bus to Ljubljana train station and then take a train to Maribor.

===== Graz airport, Austria =====
[[http://www.flughafen-graz.at|Graz airport]] is just across the from Maribor about 40km driving distance. Best option for arriving from most cities in EU.

You can travel to Maribor from a nearby train station in under an hour, there may be shuttle services available.

===== Klagenfurt airport, Austria =====
[[http://www.klagenfurt-airport.at|Klagenfurt airport]] is also an option to travel to Maribor and is about 100km away.

===== Zagreb airport, Croatia =====
[[http://www.zagreb-airport.hr|Zagreb airport]] is another option about 100km away from Maribor.

===== Vienna, Austria =====
Flying to Vienna is also an option, there are shuttle bus services to Maribor.
Line 34:
Line 73:

TODO
You can travel to Maribor with different international trains. There are direct connections available with Zagreb (CRO), Rijeka (CRO), Graz (A), and Vienna (A). On some lines it is necessary to change trains in Ljubljana or Zidani Most. Nearby Pragersko, which has good train services with Maribor, also enables fast train connections with Budapest (H) and Venice(I).

Traveling by train around Slovenia can be very comfortable. It is possible to travel along the railway tracks from Ljubljana to Maribor in a little less than two hours. Trains of varied quality and class prices links Maribor also with a number of other Slovene places. See [[http://www.slo-zeleznice.si/en/|Slovenian railways website.]]
Line 38:
Line 78:

TODO
Maribor is connected to Zagred (CRO), Graz (A), Belgrade (YU), Amsterdam (NL) Rotterdam (NL) and most places in Germany by regular international bus lines. Otherwise Slovene towns are connected by regular bus services to Austria, Croatia, England, France, Germany, Netherlands, Sweden and countries of the former Republic of Yugoslavia.

Maribor has also good bus services with other Slovene towns. However, it is recommended to travel by train between most Slovene places and cities, because the railway connections are more frequent and more often than not also cheaper.

==== Road ====
Maribor is connected to the motorway network spanning the whole country of Slovenia and connecting to Austria, Hungary, Croatia and Italy. Parking is generally available as well as at the venue. Note that you need to buy a toll pass - vignette to drive on Slovenian motorways, the cost is 15EUR for one week. Note that the penalty is about 800EUR so do bother to buy one. Austrian has a separate toll pass for their motorways.
Line 42:
Line 86:

TODO:
* week tickets?
* public bus schedules?
Public transport is handled by [[http://www.marprom.si/en/|MarProm]] with most bus lines starting from the main bus station next to the train station.

The venue - Dom Obrambe Pekre is serviced by ''Line 18 Pekre'' to a nearby stop ''Lesjakova 1'', running every 30 minutes as well as ''Line 6 Vzpenjača'' to the end-stop ''Vzpenjača'', running every 20 minutes, where all the accommodation options are located. There is a 15min walk to the venue.

Bust tickets are 1.1EUR single ride paid on the bus or 0.87EUR if bought in pre-sale with one-time 2.5EUR cost for an RFID card. 20 journey ticket is about 14EUR.

Schedules are [[http://www.marprom.si/en/getting-around/|available online]] as well as the [[http://www.marprom.si/fileadmin/dokumenti/mreza-linij-MARPROM.pdf|route map]]
Line 48:
Line 95:

The event takes place on the following dates: TODO

Untill 21st January Doodle is running to vote for the dates: http://doodle.com/u87m93n6mtgtc5nt

Possible options:

'''22nd - 28th June 2015'''
This date is extremely appealing as music festival Lent
http://www.festival-lent.si/en/ starts on 26th and offers a two week
long series of events on up to 34 stages of various sizes across town
and is a great option to prolong your stay during this most vibrant season.

'''3rd - 9th August 2015'''
This date precedes CCC (13th-17th August) in Germany, offering an
excellent opportunity to combine travels from all over the world first
to Slovenia and then to Germany for an extended period of great events.
Travel from Maribor to Zehdenick (near Berlin) is feasible with night
train(39EUR+) or flying from Graz airport(90EUR+), sometimes
coach/carsharing options also available.
Line 51:
Line 114:
In brief: We will deploy a wireless mesh network over the

campus

, run different routing protocols on top of it, perform some tests and see which routing protocol behaves better. (More Infos about the firmware: [[BattleMeshV8/Firmware]])
In brief: We will deploy a wireless mesh network

all

over the

place

, run different routing protocols on top of it, perform some tests and see which routing protocol behaves better. (More Infos about the firmware: [[BattleMeshV8/Firmware]])
Line 54:
Line 117:
[[https://github.com/battlemesh|Battlemesh github repository]] Here you can find the wibed testbed platform, battlemesh packages (a set of OpenWRT packages to be used at the WBM events), and an OpenWRT mirror.

[[https://github.com/battlemesh|Battlemesh github repository]] Here you can find the wibed testbed platform, battlemesh packages (a set of OpenWRT packages to be used at the WBM events), and an OpenWRT mirror.
Line 60:
Line 123:

[[BattleMeshV8/Agenda|The agenda for talks, workshops and meetings is here]]. Projector slides and several videos of the talks are also linked here. If you have made videos of the talks, please link them here. It is also possible to put them on the [[http://download.battlemesh.org|Battlemesh download server]]

[[http://www.youtube.com/playlist?list=PLjdaTaDJvaVzotzdFSpblCVegRpHgGPLG|Battlemesh V7 Video's by Stefan van Hooft]]

[[BattleMeshV8/CallForTalks|Call for talks]].


TODO: Announcement, Call for Talks and Workshops, etc

Line 69:
Line 126:

* Battlemesh V7 Video's by Stefan van Hooft: http://www.youtube.com/playlist?list=PLjdaTaDJvaVzotzdFSpblCVegRpHgGPLG

Line 85:
Line 143:
If you wish low cost accommodation, a special group booking

has

be

en

arranged. <<< TODO >>>
If you wish low cost accommodation, a special group booking

will

be arranged. <<< TODO >>>
Line 97:
Line 155:
* [[http://www.ac.upc.edu/|{{attachment:upc_logo.jpg|http://www.ac.upc.edu/}}]]
* [[http://www.guifi.net/|{{attachment:guifi_logo.png|http://www.guifi.net/}}]]
* [[http://www.bittorf-wireless.de/|{{attachment:bittorf_wireless_logo.png|http://www.bittorf-wireless.de/}}]]
Line 102:
Line 157:


Line 107:
Line 160:
Line 111:
Line 163:


* B.A.T.M.A.N.
* OLSR
* BMX
* Open 802.11s
* OpenWRT
* Freifunk
* Guifi.net
* Ninux.org
* Wlan slovenija
* Funkfeuer
* Athens Wireless Metropolitan Network (AWMN)
* Alter Mundi
* Wireless Weimar (aka weimarnetz)
* Wireless Leiden
* Wirelesspt.net
* Free Network Foundation
* qMp.cat
* Libremesh
* CONFINE
* Bottom Up Broadband For Europe

A complete and updated list will be available at the [[http://battlemesh.org/BattleMeshV7/Endorsements|Endorsement dedicated page]].

<<< TODO >>>

Line 137:
Line 166:


Line 148:
Line 175:
Line 150:
Line 176:

== Task List ==
This task list is kept here to track who is responsible for certain things. Please notify on mailing list before you add yourself here. Local team will be inserted here as well, tasks may be added/merged on the go.

|| '''Task Name''' || '''Local''' || '''Remote''' || '''Priority''' || '''Description''' || '''Responsible Person''' ||
||Accomodation || L || - || *** || - || - ||
||Transport (from/to airport)|| L || - || ** || - || - ||
||Transport (from/to venue)|| L || - || ** || - || - ||
||Venue Location|| L || - || *** || Done || Musti ||
||Venue Equipment (Speaker, Projector)|| L || - || *** || - || - ||
||Internet Connection|| L || - || *** || - || - ||
||Hardware for Testing|| - || R || ** || - || - ||
||Food Supply|| L || - || * || - || - ||
||Financial Handling (Bank Account)|| L || - || *** || - || Musti ||
||-> Invoice Handling|| L || - || ** || - || Musti ||
||-> Attendence Certification|| L || - || ** || - || Musti ||
||Test Manager|| - || R || ** || - || - ||
||Firmware Preparation|| - || R || ** || - || - ||
||Press Communication|| L || R || * || - || - ||
||Logo|| L || R || ** || - || - ||
||Merchandise (T-Shirts, Flags)|| L || R || * || - || - ||
||Agenda|| - || R || ** || Call for talks, review proposals, create schedule || txt.file ||
||Social Events|| L || - || * || - || - ||
||Mentor Team -> Annnouncement, Mentoring Organizers|| L || R || *** || Done || Simon, JoW ||
||-> Recon: visit the place, find Date|| L || R || * || Done, visit in January || Simon, JoW ||
||Webpage|| - || R || *** || - || - ||
||Attendence List/SignUps (DEADLINE!!)|| L || R || *** || - || - ||
||Recording and Streaming|| - || R || * || - || - ||
||Local Community, Sponsorship|| L || - || * || - || wlan slovenija ||
BattleMeshV8
We would like to give to the 'Battle of the Mesh' the flavor of a tournament with a social character. If you are a mesh networking enthusiast, community networking activist, or have an interest in mesh networks you might find this bunch of crazy folks gathering for the Wireless Battle of the Mesh V8 very interesting. This event is also an opportunity to meet developers from the most popular open source mesh protocol implementations (Babel, B.A.T.M.A.N. L3 and L2, BMX, IEEE 802.11s, OLSR) and watch their ideas compete. If you have implemented an interesting mesh protocol capable of running on OpenWrt Chaos Calmer (14.07) you can take part in the tournament too.
Where
The BattleMeshV8 will be held at Maribor, Slovenia. The testing / hacking / talks will take place in Dom Obrambe Pekre It features one large dining hall with an attached smaller hall for talks, a large lecture theater, several smaller classrooms and an outdoor auditorium. Expect to find nice community WiFi internet connection (open.wlan-si.net), video projectors, beverage and snack supplies and some curious hackers.
Dom Obrambe Pekre consists of two larger halls, several classrooms and offices. It is an ex-military school now ran by the Administration of the Republic of Slovenia for Civil Protection and Disaster Relief and used as a Civil protection base, firefighter education base and is the headquarters of Slovenian Ham-Radio Association. Placed on the outskirts of town Maribor under the Pohorje mountain it is surrounded by a large open area and vineyards, offering a very nice environment for setting-up indoor and outdoor WiFi test setups. During the summer time the outdoor auditorium is a very nice setting for some hacking int he sun, a football match in the afternoon and a barbeque in the evening. The location has a nearby city bus stop in about 15 min walk away from the ski-resort with plenty accommodation options.
Some first impressions - please imagine that with 30 degrees Celsius in summer time :)
Outside the venue and view:
Inside the venue for hacking/talks:
Radio tower on the montain:
Kreatorlab Fablab/Hackerspace:
GT22 Transnational Guerilla art school:
Accommodation and Food Supply
Plenty accommodation options are available in the ski-resort part of the town Maribor under Pohorje mountain. A pleasant area in all seasons offers accommodation, restaurants and plenty outdoor recreation facilities.
Currently we are discussing options for cost-effective accommodation and more will be known once the date is set. Most likely 2-4 bed rooms in a hotel will be organized, however camping sites are also available nearby.
Hostel
TODO
Directions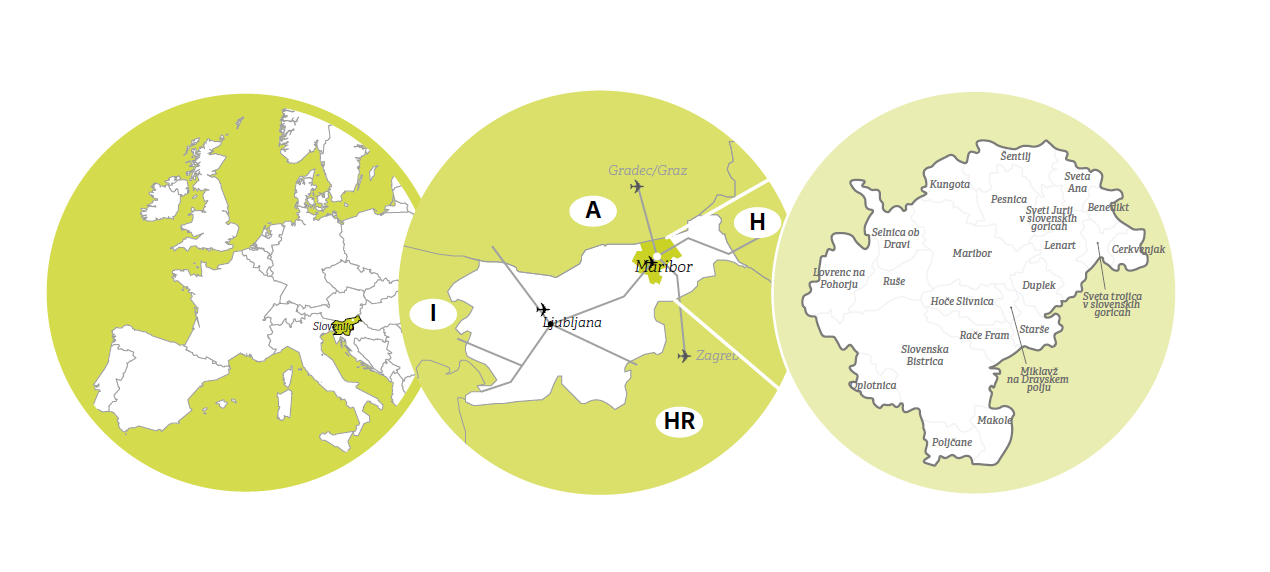 There are several ways to get to Maribor city.
Airport
There are plenty options to travel to Maribor by plane as there are several major Airports within 1-2h driving distance.
Soon we will appoint a community member to help you with travel arrangements.
Maribor - Edvard Rusjan airport
Closest international airport in Maribor located a few kilometers outside the city, but there are no regular connections, only charters and flying sports activities.
Ljubljana - Jože Pučnik Airport
The http://www.lju-airport.si%20main%20Slovenian%20airport with multiple international daily routes and frequented by low-cost airlines EasyJet (London) and Wizzair (London, Brussles). Note that there are very frequent flights to/from Istanbul, Turkey, you may find a good deal if arriving from other parts of the world via that airport.
The airport is about 100km from Maribor, that takes about 1h by car. You can travel to Maribor by shuttle bus, by Shuttle bus to Ljubljana train station and then take a train to Maribor.
Graz airport, Austria
Graz airport is just across the from Maribor about 40km driving distance. Best option for arriving from most cities in EU.
You can travel to Maribor from a nearby train station in under an hour, there may be shuttle services available.
Klagenfurt airport, Austria
Klagenfurt airport is also an option to travel to Maribor and is about 100km away.
Zagreb airport, Croatia
Zagreb airport is another option about 100km away from Maribor.
Vienna, Austria
Flying to Vienna is also an option, there are shuttle bus services to Maribor.
Train
You can travel to Maribor with different international trains. There are direct connections available with Zagreb (CRO), Rijeka (CRO), Graz (A), and Vienna (A). On some lines it is necessary to change trains in Ljubljana or Zidani Most. Nearby Pragersko, which has good train services with Maribor, also enables fast train connections with Budapest (H) and Venice(I).
Traveling by train around Slovenia can be very comfortable. It is possible to travel along the railway tracks from Ljubljana to Maribor in a little less than two hours. Trains of varied quality and class prices links Maribor also with a number of other Slovene places. See Slovenian railways website.
Bus
Maribor is connected to Zagred (CRO), Graz (A), Belgrade (YU), Amsterdam (NL) Rotterdam (NL) and most places in Germany by regular international bus lines. Otherwise Slovene towns are connected by regular bus services to Austria, Croatia, England, France, Germany, Netherlands, Sweden and countries of the former Republic of Yugoslavia.
Maribor has also good bus services with other Slovene towns. However, it is recommended to travel by train between most Slovene places and cities, because the railway connections are more frequent and more often than not also cheaper.
Road
Maribor is connected to the motorway network spanning the whole country of Slovenia and connecting to Austria, Hungary, Croatia and Italy. Parking is generally available as well as at the venue. Note that you need to buy a toll pass - vignette to drive on Slovenian motorways, the cost is 15EUR for one week. Note that the penalty is about 800EUR so do bother to buy one. Austrian has a separate toll pass for their motorways.
Inner city (Public transport)
Public transport is handled by MarProm with most bus lines starting from the main bus station next to the train station.
The venue - Dom Obrambe Pekre is serviced by Line 18 Pekre to a nearby stop Lesjakova 1, running every 30 minutes as well as Line 6 Vzpenjača to the end-stop Vzpenjača, running every 20 minutes, where all the accommodation options are located. There is a 15min walk to the venue.
Bust tickets are 1.1EUR single ride paid on the bus or 0.87EUR if bought in pre-sale with one-time 2.5EUR cost for an RFID card. 20 journey ticket is about 14EUR.
Schedules are available online as well as the route map
When
Untill 21st January Doodle is running to vote for the dates: http://doodle.com/u87m93n6mtgtc5nt
Possible options:
22nd - 28th June 2015 This date is extremely appealing as music festival Lent http://www.festival-lent.si/en/ starts on 26th and offers a two week long series of events on up to 34 stages of various sizes across town and is a great option to prolong your stay during this most vibrant season.
3rd - 9th August 2015 This date precedes CCC (13th-17th August) in Germany, offering an excellent opportunity to combine travels from all over the world first to Slovenia and then to Germany for an extended period of great events. Travel from Maribor to Zehdenick (near Berlin) is feasible with night train(39EUR+) or flying from Graz airport(90EUR+), sometimes coach/carsharing options also available.
What
In brief: We will deploy a wireless mesh network all over the place, run different routing protocols on top of it, perform some tests and see which routing protocol behaves better. (More Infos about the firmware: BattleMeshV8/Firmware)
Github repository
Battlemesh github repository Here you can find the wibed testbed platform, battlemesh packages (a set of OpenWRT packages to be used at the WBM events), and an OpenWRT mirror.
Announcement
This page contains the official Announcement: BattleMeshV8/Announcement
Timetable / Agenda
TODO: Announcement, Call for Talks and Workshops, etc
Impressions from previous Battlemesh events
Participant Registration and Fee
The event itself is free of charge and open for all!
If you intend to come (with or without hotel reservation), please add your name to the BattleMeshV8 participants list.
If you wish low cost accommodation, a special group booking will be arranged. <<< TODO >>>
Contact
Sponsors
We would like to thank the following for making this event possible:
Hardware
Thank you for providing us with hardware for the event!
Donated OpenHardware - WRTnode
<<< TODO >>>
Funding
<<< TODO >>>
Endorsements
<<< TODO >>>
Blog Ping-Backs and Media Coverage
<<< TODO >>>
What to Bring
Access Points
Ethernet Cables
switches and hubs
your laptop
List of the Hardware Available
TODO: please write here what you are going to bring
Task List
This task list is kept here to track who is responsible for certain things. Please notify on mailing list before you add yourself here. Local team will be inserted here as well, tasks may be added/merged on the go.
| | | | | | |
| --- | --- | --- | --- | --- | --- |
| Task Name | Local | Remote | Priority | Description | Responsible Person |
| Accomodation | L | - | *** | - | - |
| Transport (from/to airport) | L | - | ** | - | - |
| Transport (from/to venue) | L | - | ** | - | - |
| Venue Location | L | - | *** | Done | Musti |
| Venue Equipment (Speaker, Projector) | L | - | *** | - | - |
| Internet Connection | L | - | *** | - | - |
| Hardware for Testing | - | R | ** | - | - |
| Food Supply | L | - | * | - | - |
| Financial Handling (Bank Account) | L | - | *** | - | Musti |
| -> Invoice Handling | L | - | ** | - | Musti |
| -> Attendence Certification | L | - | ** | - | Musti |
| Test Manager | - | R | ** | - | - |
| Firmware Preparation | - | R | ** | - | - |
| Press Communication | L | R | * | - | - |
| Logo | L | R | ** | - | - |
| Merchandise (T-Shirts, Flags) | L | R | * | - | - |
| Agenda | - | R | ** | Call for talks, review proposals, create schedule | txt.file |
| Social Events | L | - | * | - | - |
| Mentor Team -> Annnouncement, Mentoring Organizers | L | R | *** | Done | Simon, JoW |
| -> Recon: visit the place, find Date | L | R | * | Done, visit in January | Simon, JoW |
| Webpage | - | R | *** | - | - |
| Attendence List/SignUps (DEADLINE!!) | L | R | *** | - | - |
| Recording and Streaming | - | R | * | - | - |
| Local Community, Sponsorship | L | - | * | - | wlan slovenija |
SubPages