Battlemesh v15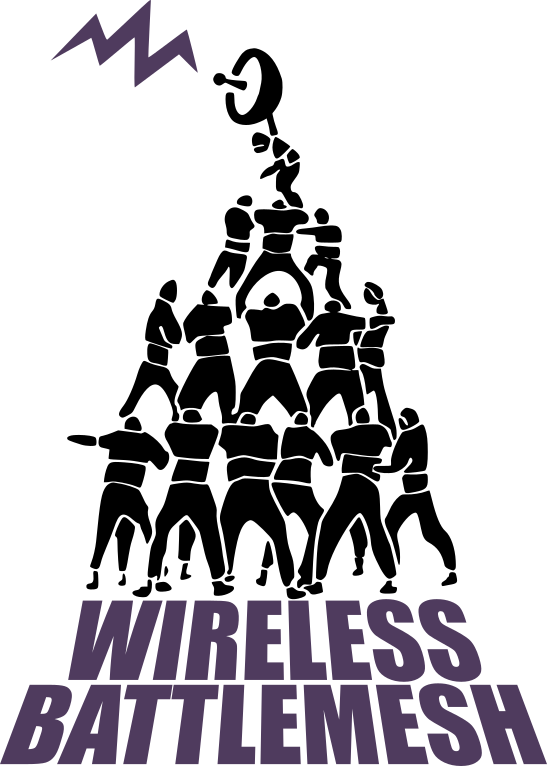 Dates: Monday 2023-05-08 to Sunday 2023-05-14
Mail orga crew contact: v15 at battlemesh.org
Lost and found stuff.

Physically: box located in calafou infopoint (where the stickers are)

Digitally: lostfound pad
---
The Wireless Battle Mesh is a non-commercial, volunteer-organized annual convention.
The convention features a variety of talks and workshops on technical and political issues related to mesh networking, wireless community networks and Openwrt firmware development.
The purpose of the event is to further topics such as right to connectivity, community-owned infrastructure and related free open source projects.
Talk Schedule and Workshops
This schedule is subject to major adjustments.
Here you have the calendar web view links to bookmark and refresh them in your browser easily and in fullscreen:
And here goes the calendars embedded:
Talks schedule
Workshops schedule
How to see the full titles of the talks
click button to switch view
select day view
navigate around the event days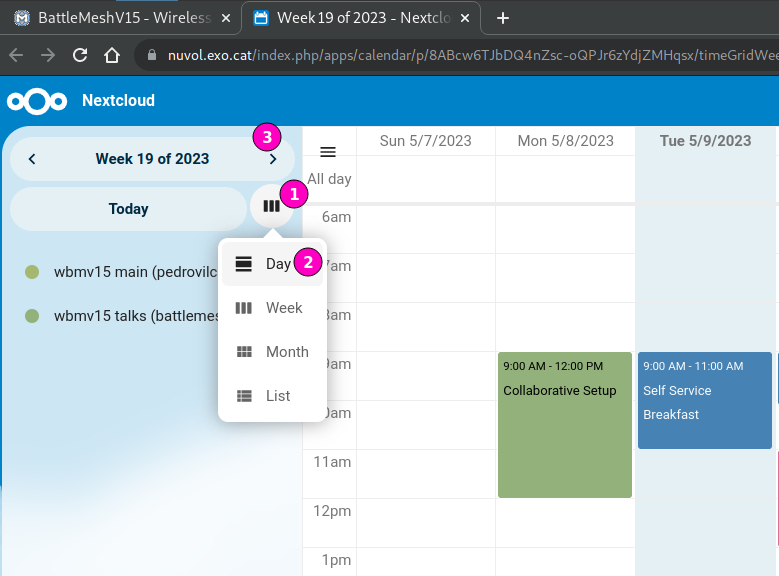 Live streaming and video recordings
All talks and panels are live-streamed and recorded!
Access the PeerTube stream hosted by our friends at eXo
Catering package
IMPORTANT UPDATE: Please fill out this form as soon as possible, ideally by end of monday:
https://formularis.exo.cat/battlemesh-v15-kalapiscina2
the bar for Thursday dinner asked us to let them know what we want as a main dish. The form above if for this.
---
Catering is provided by the Kitchen Crew at Calafou for the full day including breakfast, lunch & dinner. Vegan, vegetarian and carnivore options available.
This catering option is optional but recommended. Calafou is located outside major urban areas which means restaurants / bars are limited.
Catering package price
Catering cost is 18 EUR per day and there is a 6 day pack discount which reduces the cost to 15 EUR per day (total: 90 EUR).
Paying for the food is only possible in cash and during the event
Catering package service introduction
The calafou collective kitchen service is a catering project for calafou events that aims to generate networking and dynamism for the community while providing a source of income and sustainable working conditions for the people who work there. We want to offer and facilitate the cooking service for the participants with a political objective of promoting food sovereignty in the territory, with local suppliers and related alternative projects, while offering healthy meals at affordable prices. Where possible, we incorporate fair trade, km0, organic and seasonal products. We want to introduce the vegetarian and vegan diet in greater proportion to choose more ethical and responsible interspecies options.
We are starting the project and we are excited to offer Battlemesh a kitchen suitable to the demands and possibilities. For this reason, we have a proposal with seasonal products from the local organic garden, vegetables, and recycled organic natursoy products, among others. One of the daily meals will be exclusively vegan and the rest will be vegetarian based with omnivorous options. We guarantee the vegan diet, gluten-free and other possible allergies to people who require it. Along these lines, we also want to offer options for refreshments and drinks during the event in the same political line, with beers from the Calafou cooperative Subversiva coop, as well as from other alternative producers such as altercola. We hope you enjoy the experience!
Catering package timetable
From Monday to Saturday:
lunch time: 14:00 - 15:00
dinner time: 20:00 - 21:00
Catering package menu
Catering might change on:
| | | | | | | | |
| --- | --- | --- | --- | --- | --- | --- | --- |
| Type | Monday 8th | Tuesday 9th | Wednesday 10th | Thursday 11th | Friday 12th | Saturday 13th | Sunday 14th |
| Lunch | Vegan and tuna empanadas, potato omelets, vegetable patés, salads. | Cerdanya cabbage and potato dish, dried fruit salad | Seitan with potatoes and vegetables, mixed salad | Lentil dhal with rice, mixed salad | Tabbouleh, breaded seitan | Vegetable paella, mixed salad | Pasta with cheese and mushroom sauce, salad. |
| Dinner | Vegan bolognese pasta, vegetable soup | Pumpkin cream, veggie burgers | Vegetable noodle soup, mushroom and leek quiche | Bar Social Event | Baked potatoes and vegetables with sauces, falafels | Vegetable cream soup, assorted vegan sausages | - |
Where
Location of the main event
The Battlemesh v15 will be hosted by the fabulous Calafou / colonia ecoindustrial postcapitalista members in Barcelona, Europe
The community voted for this year's edition to take place from Monday 2023-05-08 to Sunday 2023-05-14.
The Calafou compound is very spacious and offers plenty of room for hacking, workshops, socializing, building test beds and more!
Centre social
The main room for battlemesh event. Primary hacking and tinkering space for the battlemesh. Here is also where the kitchen cooks and serves us breakfast, lunch and dinner.
OpenStreetMap geolocation link it is located ground floor: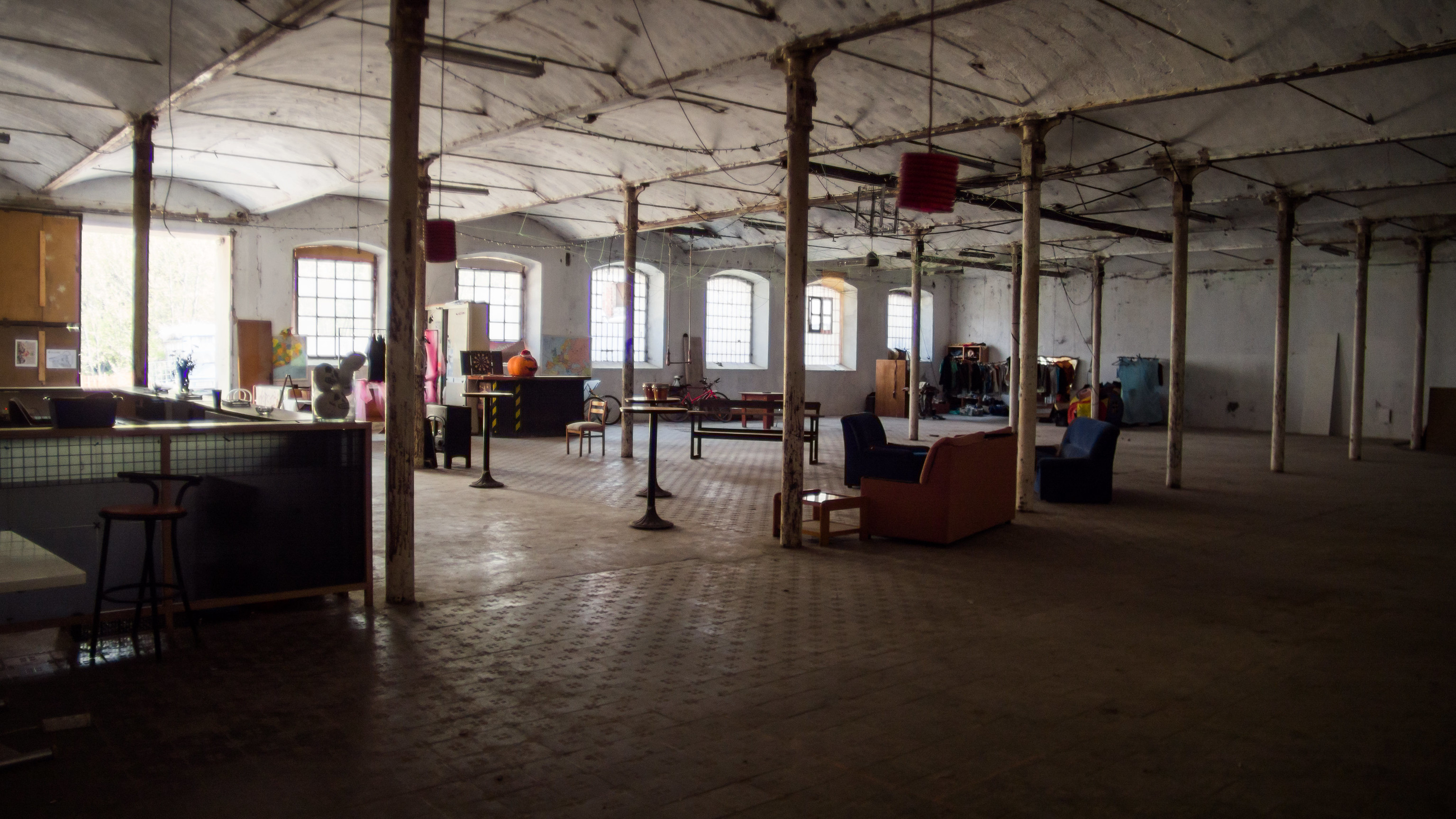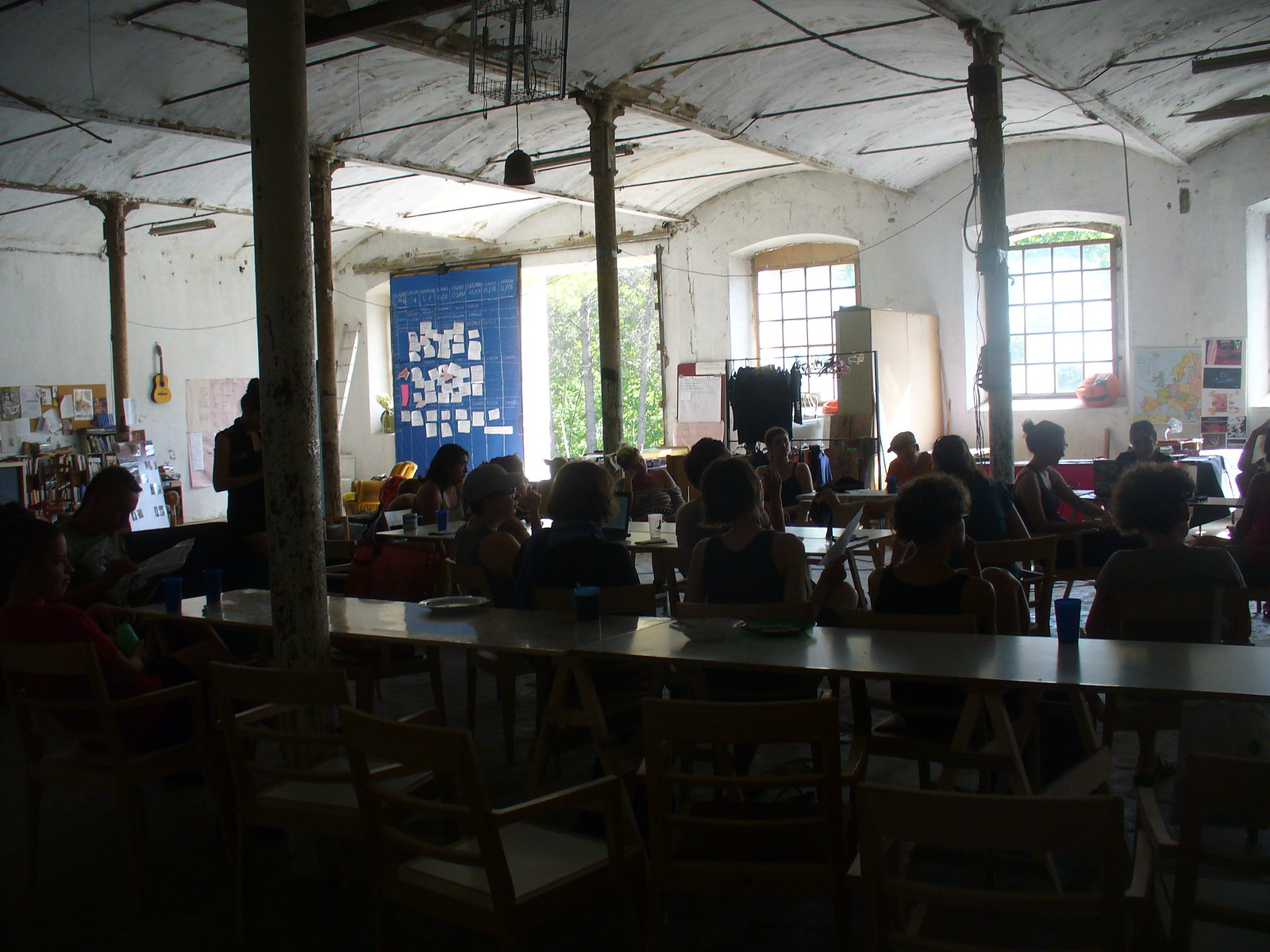 Hackuina
Where the talks take place (it is a communal kitchen and recreation area).
OpenStreetMap geolocation link it is located upstairs: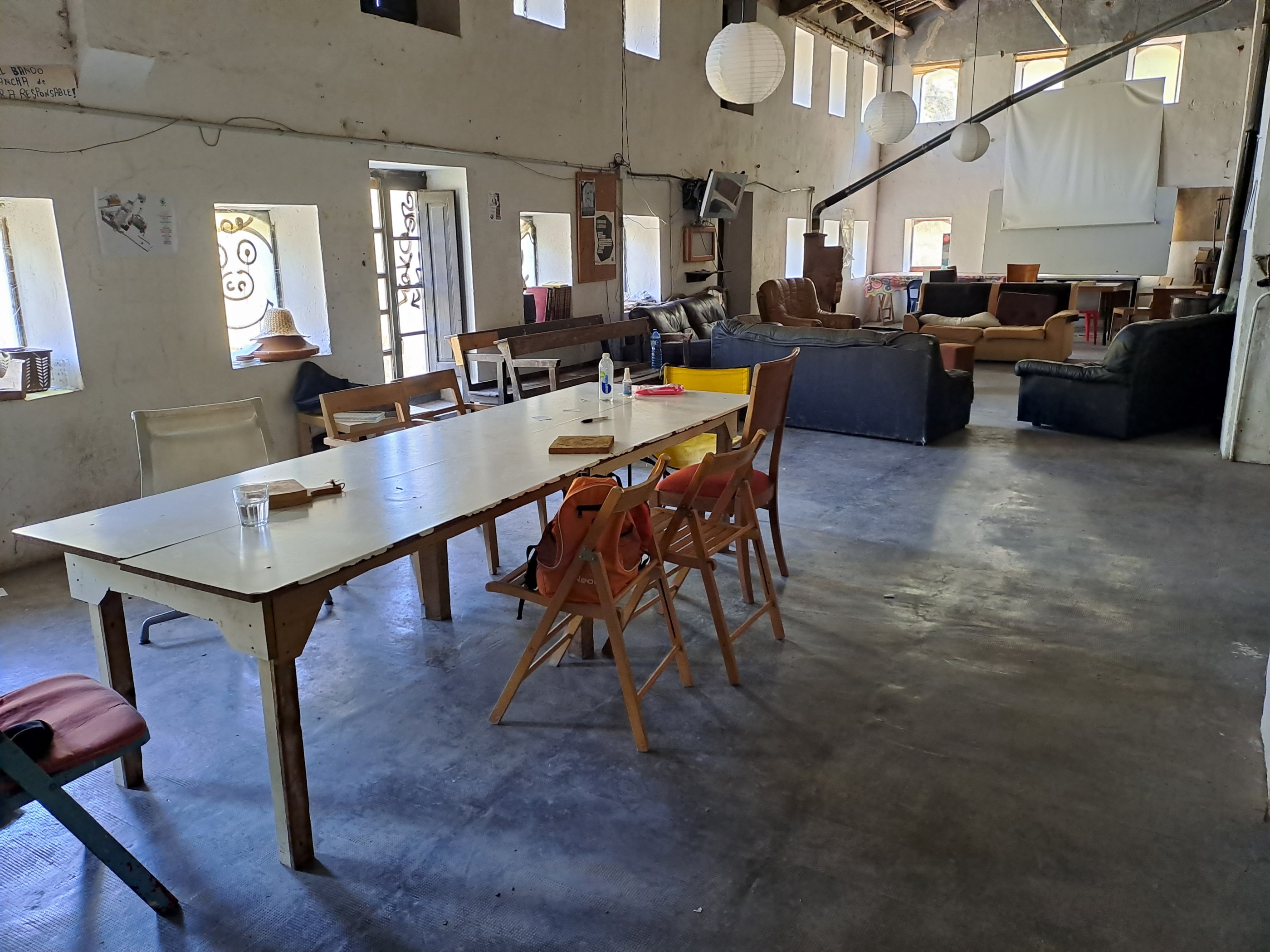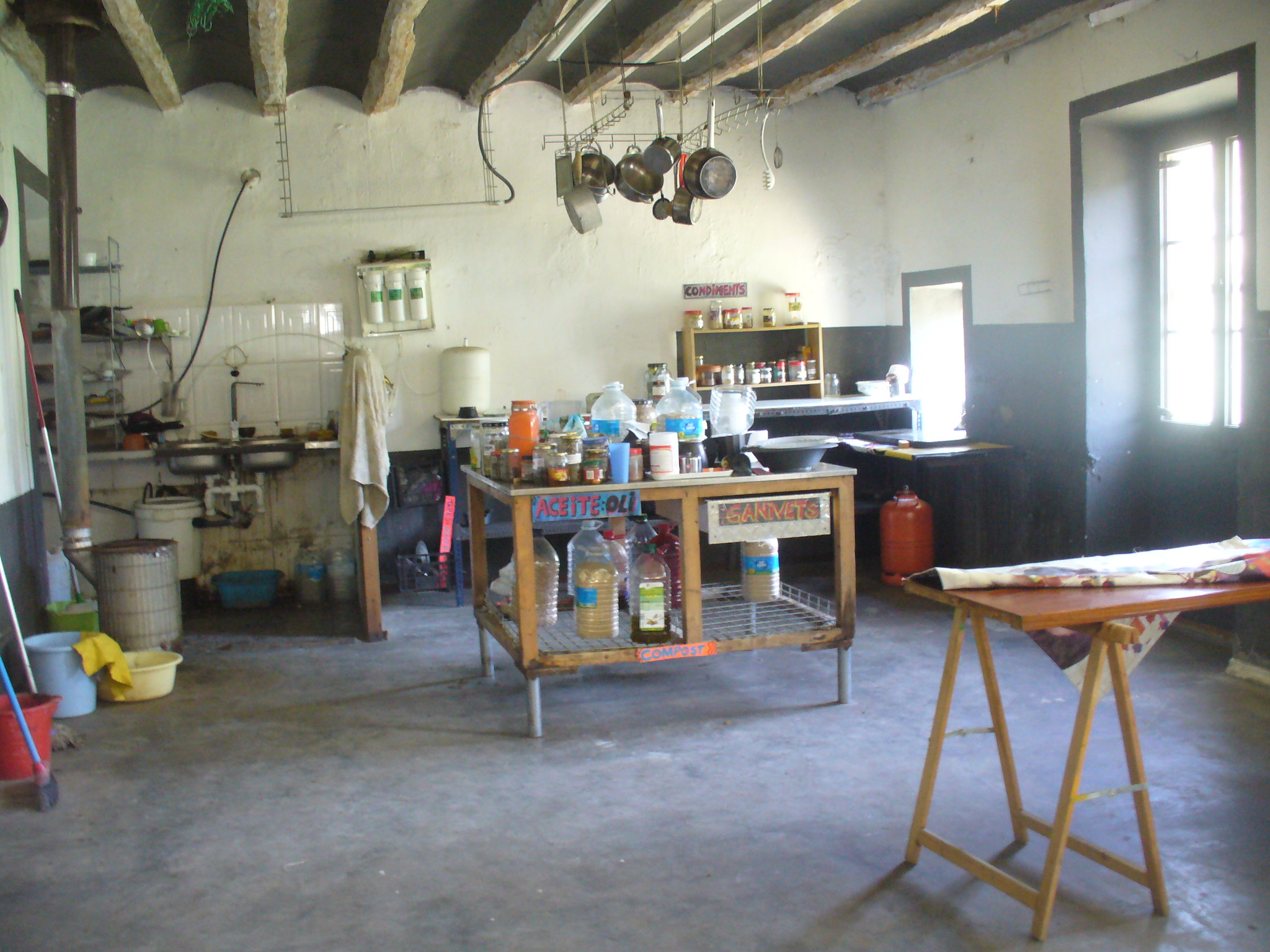 Ofitech
OpenWRT room and workshops room
OpenStreetMap geolocation link it is located ground floor: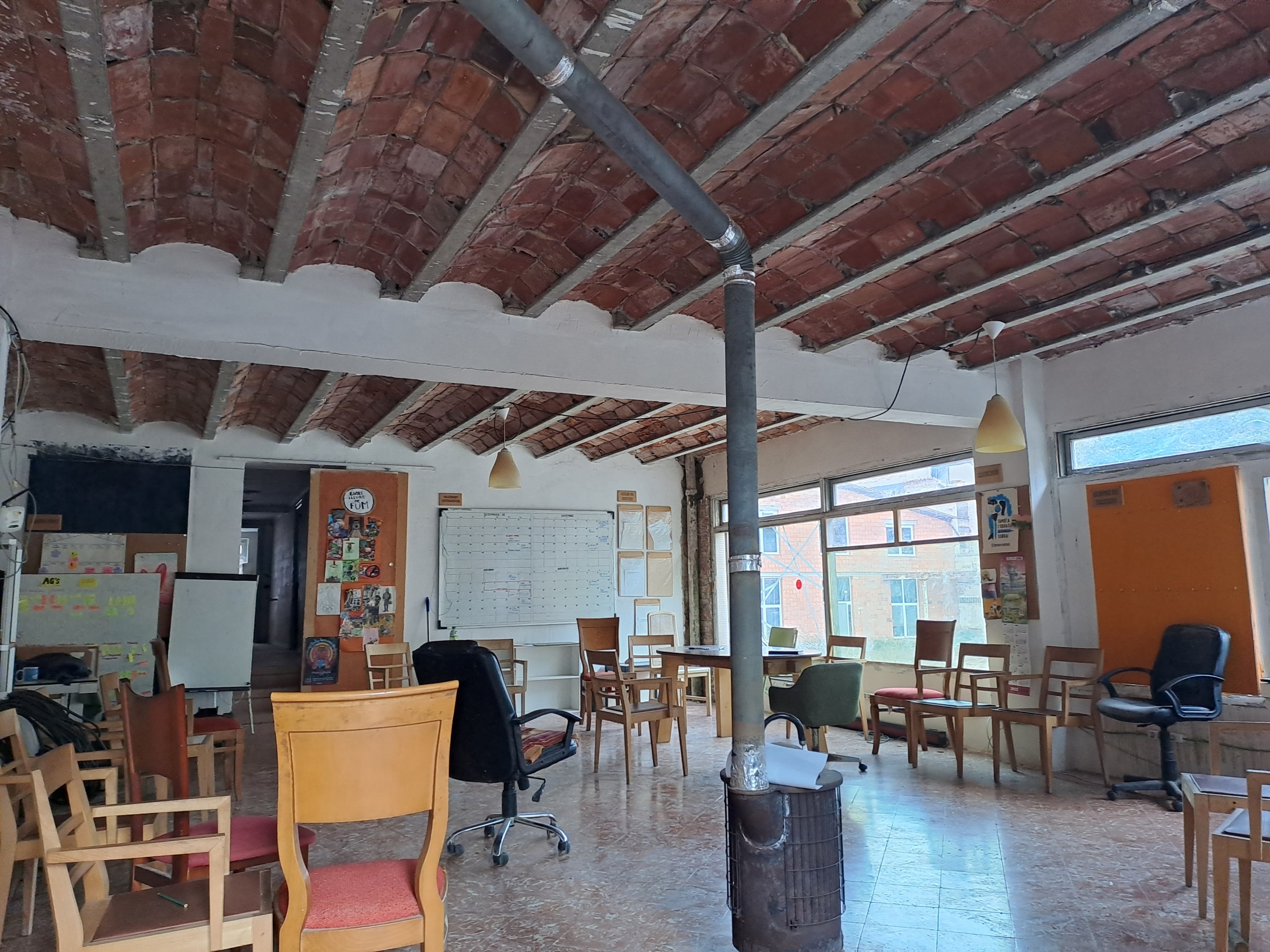 Basic information to be in Calafou
Please take a look in the official calafou's wiki about the basic information when you are in Calafou https://wiki.calafou.org/index.php/INFO_B%C3%81SICA#English
How to get there
You can find instructions below or on Calafou's wiki here:
https://wiki.calafou.org/index.php/INFO_B%C3%81SICA#How_to_get_there
By train
The basic steps are:
get to Plaça d'Espanya square;
enter "Barcelona - Pl. Espanya" FGC train station;
buy the ticket and take the right train and get off at "Vallbona d'Anoia" stop;
walk to Calafou.
In detail:
1. get to Plaça d'Espanya square
* from the Barcelona El Prat airport: follow the indications for the Aerobus (6.75€ one way, 11.65€ return. The return ticket is valid for 90 days). In case you prefer a cheaper option, refer to the Calafou wiki accessible here: https://wiki.calafou.org/index.php/INFO_B%C3%81SICA#How_to_get_there Once you are in Plaça d'Espanya square, look for the underground FGC (ferrocarril) station (ferrocarril is a kind of local train, but it is not the most common one). You should see the FGC logo like this: https://www.fgc.cat/wp-content/uploads/2020/06/logo-FGC-square.png
* from the metro network: get to "Espanya" metro station, it is reachable with the metro lines L1 (red) and L3 (green). Once you get off from the metro, you need to follow the indication for the FGC (ferrocarril) trains (ferrocarril is a kind of local train, but it is not the most common one). You will see this green FGC logo: https://www.fgc.cat/wp-content/uploads/2020/06/logo-FGC-square.png The two stations are underground and connected, but they are physically separated and each one has its own ticket to be bought.
3. buy the ticket and take the right train and get off at "Vallbona d'Anoia" stop
Once you get to the FGC (ferrocarril) station, go to the ticket vending machines and click:
language
FGC single ticket
1 journey
other FGC destinations
go down until finding "Vallbona"
The price is 7.35€
Both (and only) R6 and R60 trains will take you to Vallbona d'Anoia.
The journey should take 80 min approx, as you can see on the time table https://www.fgc.cat/wp-content/uploads/2020/10/R6_Igualada_LA_octubre_20.pdf
4. walk to Calafou:
See the map here IMAGE or follow this walking route on OpenStreetMaps: https://www.openstreetmap.org/directions?engine=graphhopper_car&route=41.52011%2C1.70947%3B41.51159%2C1.70357#map=16/41.5153/1.7068 If you don't want to get to Calafou walking (20 min downhill) you can try to get someone to come from Calafou with a car.
Going back:
You can buy the FGC ticket inside the train station building and you should obliterate it there (try with the yellow slot at the center of a black rectangle on the wall next to the ticket vending machine). In the Vallbona d'Anoia train station there are two train tracks, but the trains in both directions just use the same track: the one closer to the train station building.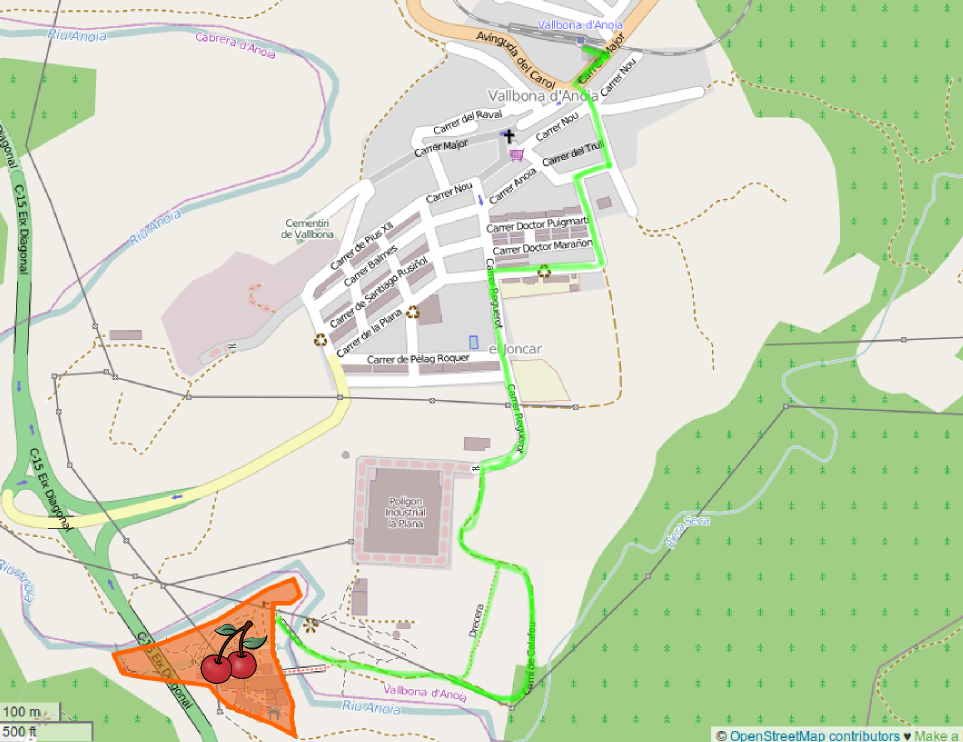 Entrance to Calafou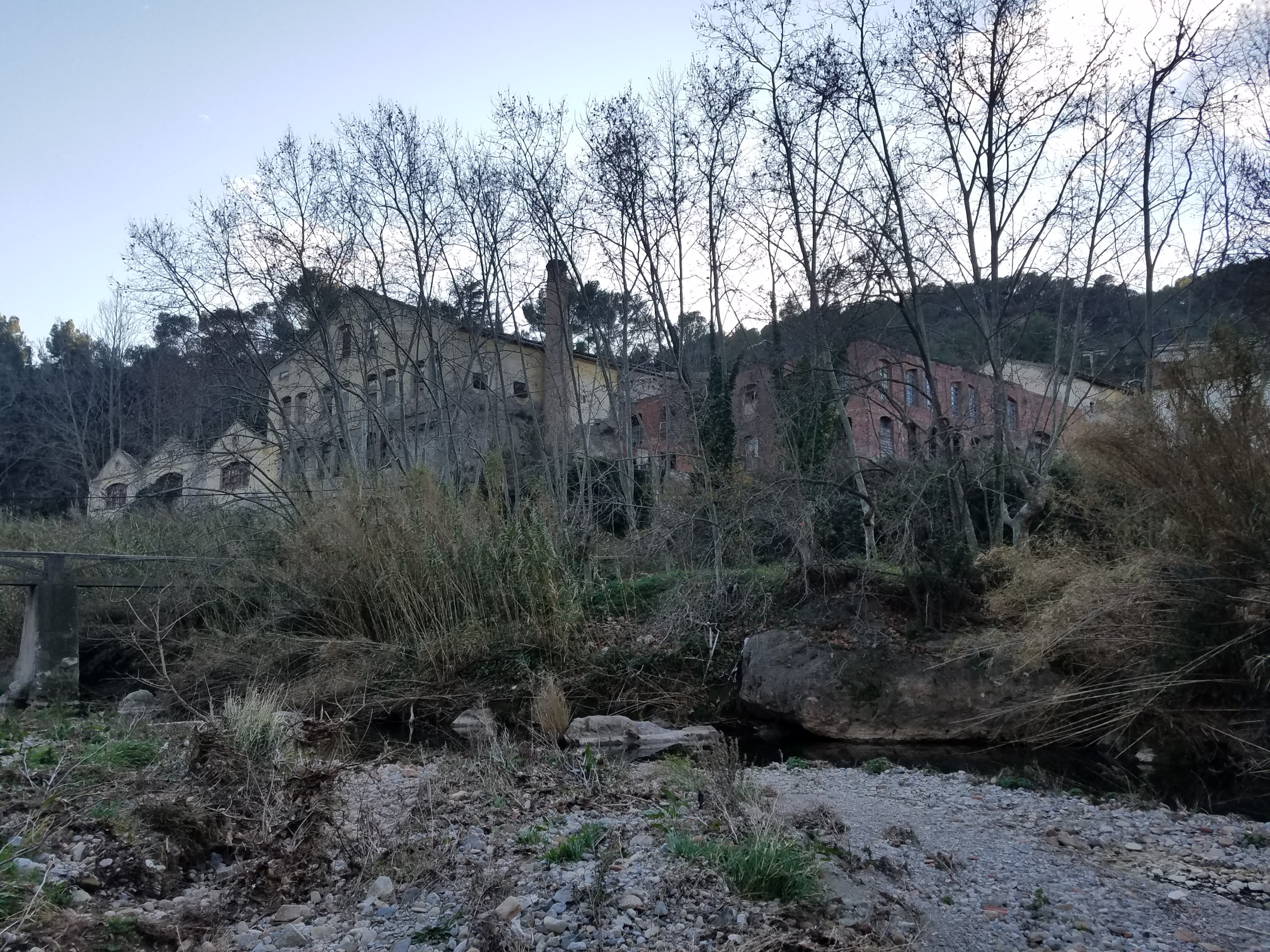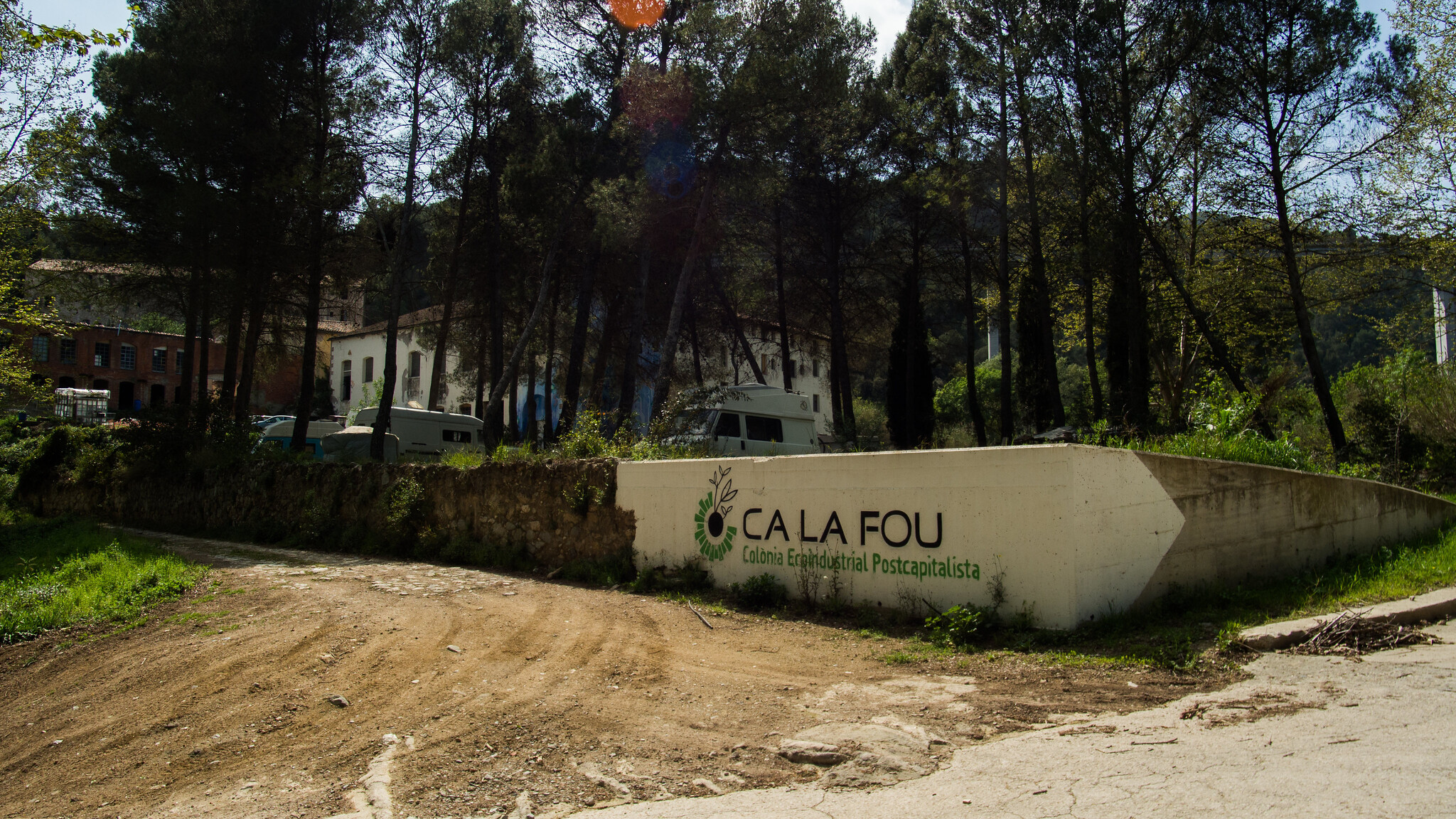 Toilets Usage
To pee: in the forest, in the indicated fácilities or in the toilets of the social center.

To shit: in the indicated "ecosec" (dry toilets). How to clean the "ecosec"
Shower Usage
There are TWO warm water showers around the social center, one is right next to the kitchen, the other one is located in the floor above the social center. Additional to that, there is a somewhat warm water shower at the outside wall of the casa rojas.
What to bring with you
Recommendations if you have accommodation package in calafou through the registration:

sleeping bag
pillow
sheet for the mattress
earplugs
sleeping face mask

10 euros cash for the t-shirt, if you asked for it in the registration

flashlight and/or headlamp, the reason is that day light is our primary lightning source, which is for the event days from 7:00 to 21:00

mosquito repellent for the skin
sunscreen for the skin
hat, cap or similar
comfortable shoes for unpaved and muddy terrain (trekking type)
canteen or water bottle
power strips
extension cords
See more details on https://wiki.calafou.org/index.php/INFO_B%C3%81SICA#What_to_bring_with_you
Extra note: regretably public swimming pool opens in June, so we would not be able to swim. And remember that the river is polluted
Weather
The forecasted maximum and minimum temperatures for that week are max 27 °C and min 10 °C. So, during the night, it can get quite chilly.
Also, the weather forecast gives a non-negligible probability that it will rain. The ground between buildings in Calafou is, in some parts, unpaved, choose your shoes accordingly
What we do
In brief: we will have organized talks, workshops and discussion panels on community networks and wireless mesh networks (see Call for Participation). There will also be more informal activities: cooperative hacking, self-organized projects, and (we hope) delightful conversations!
Full schedule: #Talk_Schedule_and_Workshops
In addition, there may be a self-organized wireless mesh network, running different routing protocols to compare them. Please coordinate directly on the battlemesh mailing list to make that happen.
How to register
The event itself is free of charge and open for all! However, it makes the organisation much easier if you tell us in advance that you plan to come.
To register, please send an email to v15 at battlemesh.org with the following content:
Subject: Registration

Name and/or Nick

Date of arrival / departure

Accommodation package: [Yes/No; package 1 or 2; room preference (mixed, non-mixed, specific person)]

T-Shirt Size: [S/M/L/none, straight or fitted cut]

Other details you want to share: (e.g. community, country, URLs, twitter/mastodon handle, dietary restrictions, ...)

Do you agree to appear on the public list of participants? [Yes/No]

Are you applying for a travel scholarship? [Yes/No; city; estimated price]
We will then put your name on the public list of participants
If you apply for an accommodation package or travel scholarship, we will reply to you shortly with more information.
Accommodation package
Information about the Accommodation package can be found on this page.
The packages are attributed on a first-come first-serve basis, so register as soon as possible!
Call for participation
We invite participants to propose workshops, talks or panel discussions relating to network infrastructure in general, how it can be built and operated as a common, and how to sustain a community around networking.
We welcome contributions that broadly address these questions from any of several perspectives: technical, organisational, economical, regulatory, juridical, political.  Example topics:
Wireless Community Networks
Community Networks that deploy Fiber-to-the-Home (FTTH) networks
TV white space as a precious network resource (radio spectrum)
Free hardware and free software for Community Networks
How to organize a durable community structure?
How to involve non-technical people? To "digital stewardship" and beyond?
How to disseminate the spirit of community networks, knowledge etc?
Connecting rural areas: challenges and solutions
Public fiber networks: architecture, funding, private actors involved, oversight
Internet of Things (IoT) networks and their impact on society
How to take advantage of a community network in ways otherwise not possible? What are the applications?
Local Internet Exchange Points (IXPs) as a common infrastructure
DNS as a common infrastructure?
Deadline: --TBA--
To submit a proposal, send us an email (v15 at battlemesh.org) with the template below. All information you give us will be made publicly available in the schedule, unless explicitely specified otherwise.
Subject: Event proposal

Name and/or nick
Optional affiliation: community, country, employer...
Event title
Type of event [talk / workshop / recurring workshop / panel discussion / other]
Duration [30 min or 1h for talks, anything you want otherwise]
Frequency [for recurring event]
Preferred date / constraint
Any required equipment (other than a projector)

Summary (about 200 words)
Sponsors
We received funding and resources from the following entities that helped to make this v15 edition
Endorsements
Public anouncements of the event from different organizations, click on them to see it
Misc
About the Battlemesh V15 logo
This year's logo shows a traditional Catalonian "human tower" or Castell. The enxaneta (person on top) carries on their shoulders a large microwave dish which you have seen in previous Battlemesh logos.
What do castells mean *nowadays* in popular culture?
Men-only castells were a declining tradition only a few decades ago. As soon as inclusive colles castelleres (i.e., teams of castellers) appeared in the late 1980s, the castells tradition flourished again and became an open, welcoming, family-friendly, intergenerational activity.
This meant not only more fun, but also better castells. I think Catalan society learnt a valuable lesson from that.
As you may imagine, the higher the castell goes, the bigger and sounder the base (i.e., the pinya) needs to be. This requires lots of people supporting the tower from the bottom. Even in the most signified castells competitions, which occur regularly, it is *common practice* that members from one colla castellera (and also friends, family, supporters, etc.) help a competing colla castellera to fer pinya [1], so that all the castells that are build during the event become more solid and robust.
Isn't it the whole purpose of putting the protocols at test during the Battlemesh, to make them more solid and robust through collaboration of all participants?
[1] https://castellscat.cat/ca/descarregar/fem-pinya/CCCC_Fem_Pinya_2019.pdf
Digital tech used to run the event
We mostly used open technologies and friendly providers
| | | | |
| --- | --- | --- | --- |
| Function | Description | Tool | Provider |
| wiki | all public info about the event | moinmoin wiki (moinmo.in) | ninux |
| pad | meeting minutes notes | etherpad, hedgedoc | riseup, exo |
| videoconferences | remote meetings | jitsi.org | exo |
| mailinglist | communication through email | mailman (list.org) | ninux |
| v15 email alias | registration and email between coordinators of v15 | postfix | ninux |
| groupware | shared files, calendar, collaborative documents | nextcloud.org | exo |
| forms | restaurant event and travel scholarships forms | liberaforms.org | exo + liberaforms |
| chat | ephemeral communication | matrix.org | federated/decentralized |
| streaming app | standalone program installed in a laptop | obs studio (obsproject.com) | univie |
| video/streaming platform | recorded talks and workshops | peertube (joinpeertube.org) | exo |
| internet coverage | local and internet network connection | routers' firmware (libremesh.org/) | calafou |
Battlemesh Coversongs
TODO
Hardware
Please add any hardware that you will bring (and are willing to lend out!) to this table:
| | | |
| --- | --- | --- |
| Name or handle | Quantity | Type of hardware |
| upc sponsor | 17 | tp-link4300 managed by cloud.openwisp.io |
| ... | ... | ... |
| ... | ... | ... |
Impressions from previous Battlemesh events
Task List
This task list is kept here to track who is responsible for certain things. Please notify on mailing list before you add yourself here. Local team will be inserted here as well, tasks may be added/merged on the go.
| | | | | | |
| --- | --- | --- | --- | --- | --- |
| Task Name | Local? Remote? | Priority | Deadline | Description | Responsible Person |
| Mentor Team | L, R | *** | 6M | Done: Annnouncement, Mentoring Organizers | |
| -> Recon mission: visit the place, find Date | L, R | * | 6M | | |
| Accommodation | L | *** | 5M | | Calafou |
| Venue Location | L | *** | 5M | | Calafou |
| Financial Handling (Bank Account) | L | *** | 5M | Managing the finances for this event is kindly carried out by volunteers at eXO.cat | Pedro |
| -> Invoice Handling | L | ** | 5M | - | Pedro |
| Public Relations | L, R | *** | 4M | - | - |
| -> Webpage | R | *** | 4M | - | |
| -> Logo | L, R | * | 4M | | |
| -> Endorsements | L, R | * | 4M | - | - |
| -> Poster | L, R | * | 3M | - | |
| -> Press Communication | L, R | * | 3M | - | - |
| -> Merchandise (T-Shirts, Flags) | L, R | * | 1M | - | |
| Attendence List/SignUps (DEADLINE!!) | L, R | *** | 4M | - | - |
| Local Community, Sponsorship | L | * | 4M | Find sponsors for the event | |
| Agenda | R | ** | 3M | Call for talks, review proposals, create schedule | |
| Sponsored Travel Grants | L, R | * | 3M | Organize the travel grants program and announce the results | |
| Test Manager | R | ** | 2M | - | nemesis |
| Firmware Preparation | R | ** | 2M | - | nemesis |
| Hardware for Testing | R | ** | 2M | - | - |
| Test Documentation | L, R | * | 1M | Document test, publish results, correct english grammar and typos | - |
| Transport (from/to airport) | L | ** | 1M | | |
| Transport (from/to venue) | L | ** | 1M | | |
| Venue Equipment | L | *** | 1M | Get a mic/speaker and projector for the talks | |
| Internet Connection | L | *** | 1M | Wired/wireless connectivity to the Internet | Duy, Ilario, Pedro |
| Food Supply | L | * | 1M | Negotiating a food package | Calafou |
| Attendence Certification | L | ** | 1M | Print/sign certificates of attendance | - |
| Social Events | L | * | 1M | Organize a social events agenda | |
| Recording and Streaming | R | * | 1M | Record and stream the talks | |
SubPages
---